If you plan to visit the Gdynia Aquarium during your vacation, we encourage you to familiarize yourself with our new holiday regulations. From July 10, we modified the rules for ticket sales and sightseeing.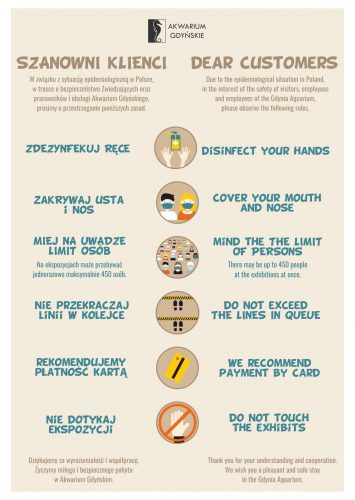 We strongly encourage you to buy tickets online at: https://sklep.akwarium.gdynia.pl/
An online ticket can be purchased even on the day of your visit to the Gdynia Aquarium. It does not require printing. Please just make sure that the code from the attachment in the e-mail is displayed correctly on your phone.
If you buy tickets at the Aquarium ticket office, we recommend card payment.
Please do not exceed the designated lines when making the purchase.
The limit of people who can be in the building at the same time will now be 450. We will no longer limit the sale of tickets for specific hours.
In the entire building of the Gdynia Aquarium, it is mandatory to cover the nose and mouth. It does not apply only to children under 4 years of age. Please also show concern for yourself and others and keep social distance.
For the duration of restrictions related to the threat of coronavirus infection, we suspend the possibility of visiting the Gdynia Aquarium by organized groups. By organized group, we mean persons who jointly participate in an organized trip, e.g. by school and educational facilities, school and care facilities, travel agencies, workplaces, organizations, etc., constituting one entity for the service provider.
After entering the Gdynia Aquarium, you should disinfect your hands with fluid that is at the entrance gates.
Please do not touch the display elements including the aquaria, and refrain from placing your hands in open display tanks.
We are temporarily suspending the "Happy Hours" offer.
Thank you for your understanding and see you at the Gdynia Aquarium!