Baltic Museums: Love IT! (2017-2020)
The main objective of the project is to develop new IT-enabled tourism products for natural and cultural heritage tourist destinations in the SBR in form of multilingual BYOD-guided tours providing an enhanced visitor experience during and after the visit thanks to gamification, multimedia content, and augmented reality techniques.
The guides will provide informational and educational content to visitor's lacking access to other types of guides due to high-season crowd or insufficient language skills, they are especially suitable for lone and cross-border travelers.
The common gamification service will make the visitors' experience more involving, and will extend it out of a single visit fostering long-term relationship. A new region-wide brand (working name: South Baltic Spotter) will be introduced to make the new gamified products better recognizable and marketable, not only making the tourist offer of the SBR more visible and coherent to visitors but also forming a sustainable cross-border network of tourist destinations using the brand, open and prepared for new members joining.
The user-centric design process of the new products will involve organisation of special events during the off-season that will additionally serve promotional purposes and should bring in a new kind of visitors (IT fans) to the destinations. Both the gamified tourism products offered under a region-wide brand and the way the end-users are involved in design of tourism products are novelty in the SBR. The project outputs will directly benefit visitors to natural and cultural heritage sites in the SBR (by enhancing the tourism supply), managers of natural and cultural heritage sites (by providing solutions ready to implement and knowledge on how to do it), and indirectly managers of tourist agencies (with a new brand fostering the interest of tourists). The project will vastly contribute to increasing popularity of natural and cultural heritage sites of the SBR as tourism destinations.
Our goals
The natural and cultural heritage assets of the SBR serve as a base for significant tourism services, which are also available in low season and in bad weather, and play a considerable educational role. There is still a large potential for the improvement of their use. The three main challenges are: to improve the quality experienced by the visitors, especially during the high season when the sites are cramped, and for those having language barriers; to attract new visitor target groups, especially in the low season; to make the tourism offer of the SBR destinations more coherent and recognizable. The opportunities are pointed to by the worldwide opinion-leading "NMC Horizon Report: 2015 Museum Edition", three of them were selected that have not yet been adequately exploited in this regard in the SBR: Bring Your Own Device (BYOD, letting visitors use their own smartphones for a guided tour), Gamification ("the use of game-design and game psychology in non-game settings to engage the target audience and motivate specific behaviors") and (Visitor) Data Analytics (which provides new information for management). There is a synergy in simultaneous implementation of these, as BYOD lets gamification to span out of specific location and country, and provides a crucial context for data analysis, i.e. identification of the same visitor in various locations. Another challenge is to prepare the hosting institutions' personnel (mentally and in terms of technical knowledge and skills, also mentioned in the Horizon Report) and technical environment, necessary for these innovative developments to succeed. On the other hand, it creates an additional opportunity: letting the relevant products to be co-developed by users themselves in a hackathon events, which could help bring in a new type of visitors (IT enthusiasts) in the off-season. Introducing the new products under a common regional brand creates an opportunity to increase visitors' awareness and build long-term relationship.
The chosen approach ensures the high user-perceived quality of the products (thanks to involvement of end-users on several stages of their development), provides cost advantages (outputs used by many institutions), makes efficient use of the project partners' competencies (by knowledge sharing), ensures transferability of the results to other destinations (sharing of both know-how and solutions).

BalticMuseums 2.0 Plus (2010 – 2015)
Wishing to ensure a high level of comfort for both adults and children in our exhibition, the Gdynia Aquarium has been carrying out BalticMuseums 2.0 Plus project since 2010. In collaboration with South Baltic's scientific and oceanographic museums, we have created an electronic guidance system (eGuide).
We give you a unique opportunity to get to know our animals, along with a modern eGuide. Adults will be introduced to the underwater world by Krystyna Czubówna, a popular polish lector known from movies about nature, while children are offered to get to know animals through series of stories.
The tours are available in English and German.
The BalticMuseums 2.0 Plus project is a continuation of the BalticMuseums 2.0 project, where partners have developed a common oceanographic information platform, virtual tours and other interesting products for visitors to the South Baltic.
Project partners:
University of Stralsund, Stralsund, Germany
University of Szczecin, Szczecin, Poland
German Oceanographic Museum, Stralsund, Germany
NMFRI Gdynia Aquarium, Gdynia, Poland
Lithuanian Maritime Museum, Klaipeda, Lithuania
Museum of the World Ocean, Kaliningrad, Russia.
More about the project at: www.balticmuseums.org.
BalticMuseums 2.0 (2009 – 2012)
BalticMuseums 2.0 project is a project completed in 2012. One of the most important results of the project is the online information platform of Baltic oceanographic museums developed in co-operation with 6 scientific and educational centers from the South Baltic countries. The content has been translated into 6 languages in order to reach as many foreign audiences as possible.
Partners have been working on joint promotion and online ticketing. Additional virtual tours include the Gdynia Aquarium, the Lithuanian Maritime Museum in Klaipeda, the German Maritime Museum in Stralsund and the Kaliningrad Museum. As part of the museum project, they have prepared prototype eGuide devices – electronic guides for exhibition tours. The electronic guidance system was developed in the continuation of the project – BalticMuseums 2.0 Plus.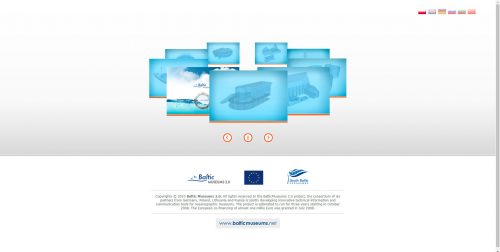 Within the framework of the cooperation the partners have also prepared a special website devoted to children interested in the sea life, so called "Kid's Zone".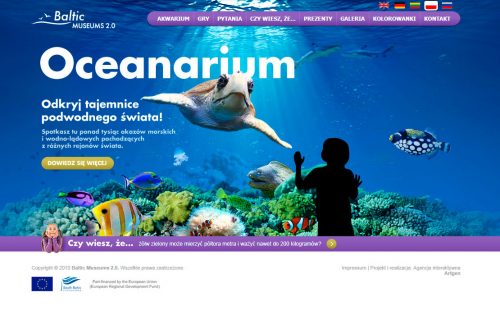 Cooperation was supposed to increase the attractiveness of partner museums abroad, thus helping to promote local tourism.
Project Partners:
University of Stralsund, Stralsund, Germany
University of Szczecin, Szczecin, Poland
German Oceanographic Museum, Stralsund, Germany
NMFRI Gdynia Aquarium, Gdynia, Poland
Lithuanian Maritime Museum, Klaipeda, Lithuania
Museum of the World Ocean, Kaliningrad, Russia.
More about the project at: www.balticmuseums.org.