Gdynia Aquarium Education Center invites organized groups to participate in ONLINE CLASSES.
The topics of the classes and their scenarios were prepared on the basis of over 20 years of experience in conducting active marine education by the Gdynia Aquarium and in cooperation with teachers and school groups who helped us test online solutions. Both the enthusiasm of the students and the results of the questionnaire filled in by the group supervisors turned out to be very successful, and therefore we invite you to sign up for online educational classes from the NMFRI Gdynia Aquarium Education Center.
The regular price is PLN 100 per group (up to 30 people).
If you are interested please contact us at akwarium.edukacja@mir.gdynia.pl or phone at  690 119 184.
Topics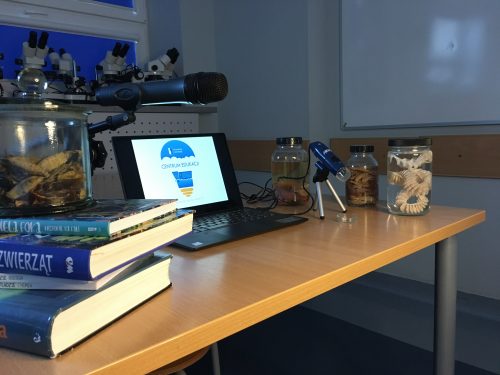 As in case of the regular classes, the offer is adapted to the age of the participants:
Colorful Life on the Coral Reef (age 4-6)
We live at the Baltic (age 4-6)
The Baltic Sea at large (1-4 class of primary school)
Inhabitants of the Coral Reef (1-4 class of primary school)
Fauna and flora of the Baltic (>4 class of primary school)
Great Barrier Reef (>4 class of primary school)
Let's meet sharks (>4 class of primary school)
The animals of the Gdynia Aquarium.
Why should you use this offer now?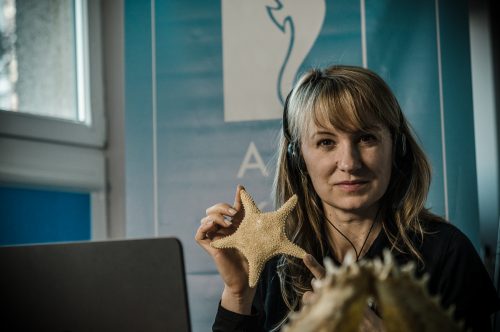 Year 2021 has officialy begun the Decade for Oceans.
Despite the restrictions related to the pandemic and the difficult situation in schools, neither the natural world nor the sensitivity shaped in young people stand still.
Online classes conducted by the Gdynia Aquarium Education Center are an opportunity to learn about the inhabitants of the underwater world from specialists and without geographical limitations.
Technical requirements
Internet connection speed requirements ensuring smooth connection during online classes are 5 Mb / s data download and 1 Mb / s data upload. With a slower connection, there may be problems with the display of the image and the sound transmission.
Sign up today!