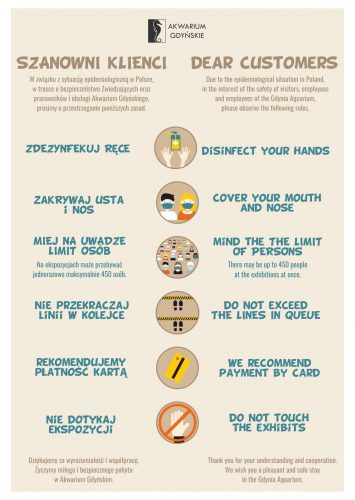 Below, in the PDF file (updated July 10,2020), you will find the full regulations of the visit, which we encourage you to read. The usual regulations had to be modified due to the country's epidemiological situation. Below we listed the points that we would like you to pay attention to:
The ticket office and entrance to the Gdynia Aquarium are closed 30 minutes before closing the facility.
We recommend buying tickets online.
Tickets can be purchased at: https://sklep.akwarium.gdynia.pl/ 30 days in advance, choosing a specific time to enter the exhibition.
Internet tickets are available no later than the day before the scheduled visit. This means that if you would like to visit the aquarium on the day you decide to do so, you will be able to buy tickets only at the ticket office of the Aquarium. In this case, one should be aware of the fact that they may simply be not available.
The rules for visiting and selling tickets change from July 1. The limit of people staying at the same time is increased to 450, while the limited sale of tickets for specific hours is lifted.
Purchased tickets are disposable and are not refundable.
Gdynia Aquarium exhibitions can be visited only individually.
For the duration of restrictions related to the risk of coronavirus infection, the possibility of visiting the Gdynia Aquarium by organized groups is suspended. By organized group, we mean people who jointly participate in a trip organized by school and educational facilities, school and care facilities, travel agencies, workplaces, organizations, etc., constituting one entity for the service provider.
Children under 13 must be accompanied by an adult.
The Gdynia Aquarium is not responsible for children left unattended.
Persons who are entitled to discount / concession / free tickets must have an appropriate document confirming their entitlement
Persons entitled to free admission are required to generate an entrance card in the Gdynia Akwarium online store or collect it at the ticket office of the Aquarium
The Gdynia Aquarium should be visited in accordance with the applicable direction and order of sightseeing provided by the staff.
In justified cases, for example for the purpose of surface disinfection, there may be changes in the dates of availability of the exhibition, temporary exclusion of part of it and interruption of the services provided.
The cloakroom and deposit lockers remain excluded from use until further notice. Strollers can only be left in places designated by the staff.
The possibility of borrowing multimedia guides is suspended until further notice.
A maximum of 450 people can be at the exhibits at one time. Some rooms, elevators and toilets are subject to specific limits that must also be followed
The entire nose and mouth must be covered throughout the Gdynia Aquarium (excluding children under 4 years old).
Persons who will not comply with this provision will not be able to enter the AG. They will also be asked from the Aquarium building.
After entering the Gdynia Aquarium, you should disinfect your hands with fluid that is at the entrance gates.
Do not touch the display components, including showcases, tank windows, and refrain from placing your hands in open display tanks.
You should keep at least 2-meter social distance in relation to the people we meet while visiting
Photographing and filming using the flash and / or tripod in rooms with live animals is prohibited.
Photographing and filming for commercial purposes requires the consent of the Gdynia Aquarium